1 A.M. Study Session - Various Artists - 2019
---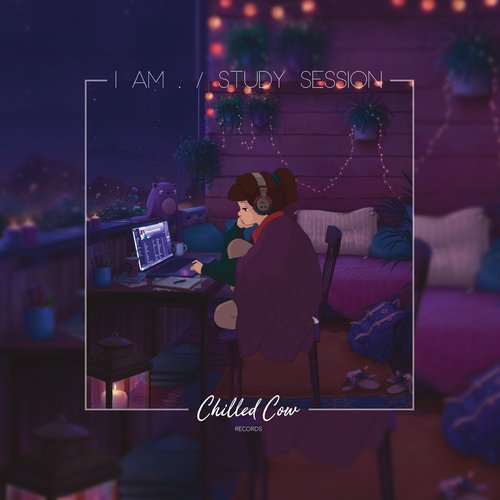 Favorite Tracks: Snowman, Explorers, Alone Time, Owls of the Night, Keyframe

I'm sure many of you (by many, I mean the handful of people that both found and decided to read this) might be familiar with the micro-internet sensation known as the "Lofi Girl." You know, the one that sits at her wonderfully aesthetic desk all day and all night, writing a few lines in her journal and briefly gazing out her window at her beautifully chonky cat before flipping the page and beginning the cycle again, all while chill lo-fi plays through her custom studio headphones? Yes, her.

The channel Lofi Girl, formerly known as ChilledCow, is a popular Youtube channel that specializes in broadcasting lo-fi music from a plethora of small creators to a large audience. There are many other channels that strive to do the same thing,and there are many that I could recommend, especially The Jazz Hop Café). I became aware of Lofi music around 2018 or so, around the end of high school/ beginning of college for me. Before then, I hadn't really had any issues focusing on school work, in fact, I was quite diligent. Not to say I fell off or anything, but after 12 and a half years of trying to be the "perfect student" I think my tank finally ran empty; I only suffered from senioritis for about the last semester of high school. I think I just finally lost the will to excel for someone else's sake. Luckily, being the responsible and self-disciplined person I am, I basically had everything I needed done, done already.

The transition from reserved high school student to socially-budding college student was a bit of a tumultuous one; it was both liberating and overwhelming. But through it all, I had Lofi Girl by my side. I could go anywhere, pop in my earphones, and instantly find my chill. Many nights were spent studying and completing assignments, although thankfully, nothing had to be done at the 11th hour. I've listened to a lot of "beats to study/relax to," but I found myself going back to one particular mix more and more frequently. I'm not sure what it was, but I could tell it was something really special.

1 A.M. Study Session is a selection of lofi tracks from a variety of artists. This particular collection has a more mellow, nighttime vibe that really captures the essence of a late-night insomniatic episode. I can vividly recall one cold, rainy night where I simply gazed out my window at the warm glow of the streetlight around the corner, with this mix playing softly in the background. The feeling was simply serene. It was as if I were wallowing in my melancholy, but in a more positive way. I didn't feel bad about anything in particular; perhaps it was more of a bout of solemnity. When I was sitting there, my mind was filled with nothing more than a relaxing haze. I surrendered myself to the warm, comforting bosom of lofi, and in that quiet instance, in the cool, misty rain, I think I finally experienced peace, albeit only for a fleeting moment.

I always find myself returning to this particular mix on quiet and sleepy nights, hoping to one day experience that same feeling I felt on that night. Though it always manages to calm me down and mellow me out, I usually never succeed in recreating that initial feeling of tranquility. I can usually get close to it, but I suppose that's part of the beauty of feelings like that. Distinct and unique occurrences like those only manifest themselves once in a blue moon, so I always cherish them whenever they do happen to me, fully immersing myself in them, absorbing every last thought, detail, and feeling.


Back to Cover Flow